Setup
My setup changes around pretty frequently, so this is where I'll keep an updated guide to my setup, and how I use it in my daily life.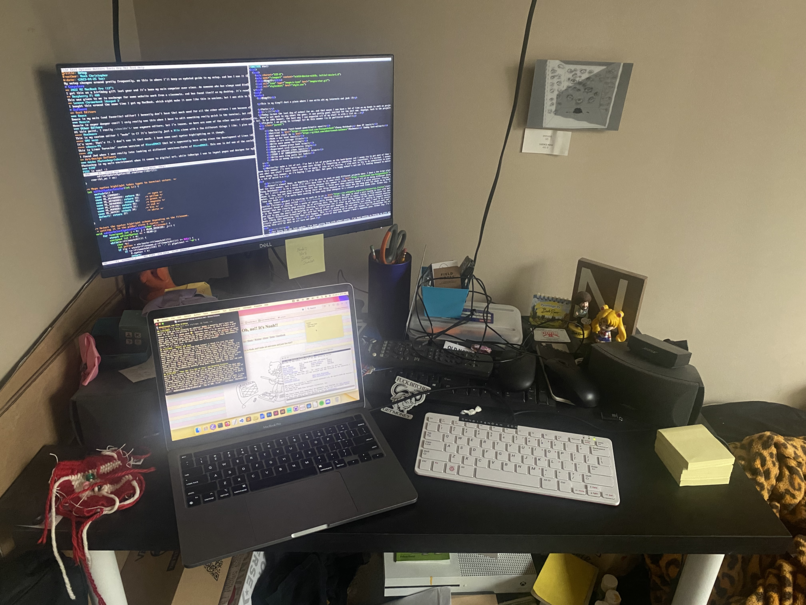 1.

Computers

I got this as a birthday gift last year and it's been my main computer ever since. As someone who has always used Windows, I really enjoy using MacOS. It's just more straight-forward and runs everything so smoothly. Because this is my main computer, I have software for everything I do like art, music, programming, and more, compared to my other machines. Overall, this is a great computer that works as an amazing daily driver.

This was given to me in exchange for some website work from a classmate, and has found itself as my desktop. It's running Raspberry Pi OS Lite, meaning I use nothing but the terminal. I like only using a terminal because it allows me to have a full distraction-less enviroment to work in, which is perfect for someone like me who gets distracted easily. I only use this for development and writing,. It's basically a small digital typewriter that runs Emacs. It takes some getting used to, but it's really helpful for long work sessions. Plus it makes me look cool.
3.

Stationary

I'm not gonna go into full detail of my stationary (at least for now 😉), but here's a list of my most commonly used stuff that is either in my fannypack or just in general.
4.
TODO
[1/2]
This is just a small list of stuff I need to do before it's "complete", aside from updating it when my setup changes.
[X] Finish Descriptions

[X] Descriptions
[X] Links

[-] Add Images